To maximise the fun and minimise stress, meticulous preparation is essential for any trip. If you aren't doing a completely off-the-grid trip, figuring out how to keep your electronics charged is a top priority. Find out what kind of electrical outlets are available at your destination before you pack your electronics. Electrical outlets in Asia and Europe are typically 220 volts, while those in the United States are 110 volts. Is the iPhone compatible with both?
The iPhone's capability to work with both 110 and 240 volts is a nice bonus. As a result, a converter is not required to charge them, as their power adapters may accept input from a wide range of receptacle types. Even if your charger is compatible with the socket, you might need an adaptor.
The cellular chip in the iPhone is universally compatible, and the phone can run on a wide range of voltages, making it a convenient travel companion. Let's take a deeper dive into the iPhone's dual voltage capabilities and whether or not you'll need an adaptor to charge it abroad.
What Does Dual Voltage Mean?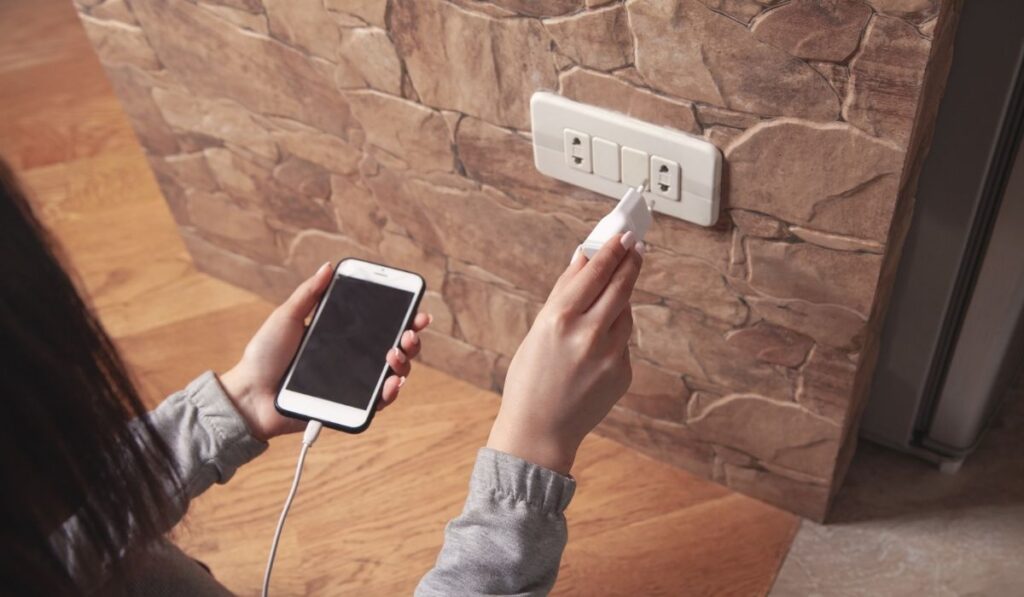 Dual voltage refers to electrical devices that can run on both European and American currents without the requirement for a voltage converter. While some devices can be switched to work with either voltage, most modern appliances feature an inbuilt transformer that does the conversion for you.
An appropriate adapter may be required for the safe operation of the device outside the country of origin, even if the voltage conversion is performed internally.
Dual voltage technology is a boon for portable electronics like cell phones, MP3 players, and electric shavers since it allows them to reach a wider audience outside of a single region or continent.
Devices with a dual voltage input range from 110-120 volts to 220-240 volts. A product's compatibility with dual voltage can be checked in several different methods. To determine the correct voltage rate, please refer to the laminated sheet of paper attached to the cord or the stamp on the plug.
If the label only specifies either 110 or 240 volts, the electronic is not dual voltage. If your electronic gadget has the words "110V-240V" stamped or labelled on it, it can be plugged into any outlet throughout the world.
Is an iPhone Dual Voltage?
Devices from Apple, such as the iPhone, can be charged with either 120 or 220 volts, making them ideal for international travel. They're great for travelling because they can adapt to different voltages.
Powering your iPhone with the included USB-A charger is safe because it can accept input from 110 to 240 volts and still deliver the usual 5 volts required by your iPhone.
Do You Need an Adapter to Use an iPhone in Other Countries?
Usually, this is the case. U.S. electrical plugs feature two flat, vertical prongs, while those in most other nations are shaped differently and use different voltage outputs. Plugs in Europe have a single vertical prong at the top and two horizontal pins at the base.
Never try to shove a plug into an outlet that isn't designed to accept it. Rather, think about picking up an adapter that works with plugs in your target country.
How to Know Which Type of Adapter You Need
Apple's environmental policies mean that its iPhones no longer ship with a charger. Apple has many different iPhone adapters available to meet your specific requirements. These adapters provide juice to your gadget via USB-A or USB-C to Lightning connectors (available on Amazon). Wireless charging is a handy feature on newer iPhone models.
When choosing an adapter for your iPhone, keep in mind the following:
Make that the new charger is compatible with the wire that came with your iPhone.
A higher wattage will rapidly recharge your electronic devices.
Get an adaptor that is suitable for the electrical outlets in the country you will be travelling or residing in.
Rather than bringing many chargers for your electronic devices, you can simply bring one universal travel adapter like the Apple World Travel Adapter Kit.
Even though Apple sells its power adapters and cables, third-party options are sometimes less expensive. Keep in mind that the warranty on your iPhone could be voided if you use any accessories that Apple does not make.
Do You Need a Surge Protector?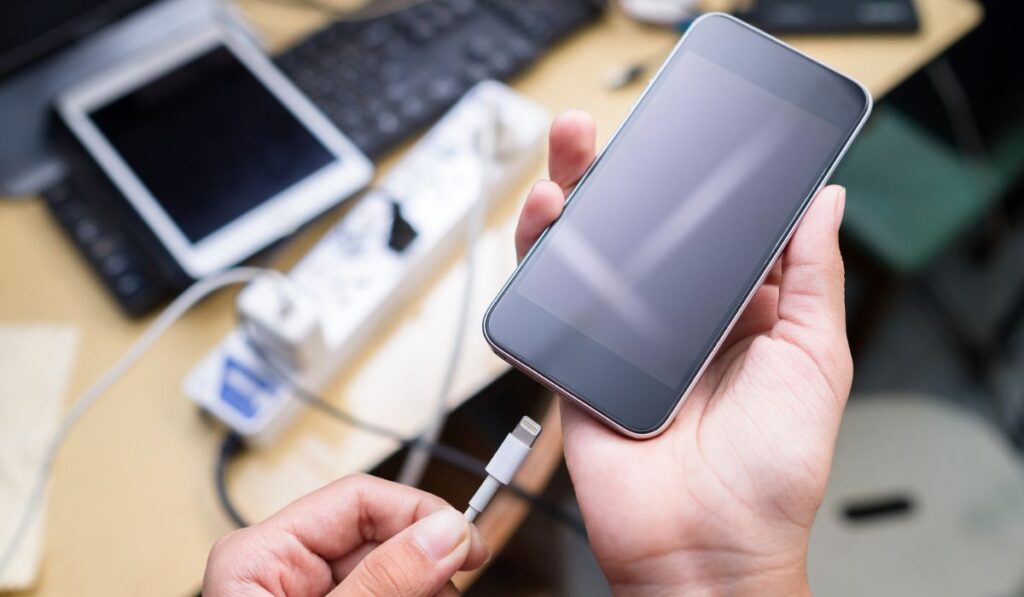 It's a good idea to bring a surge protector on your trip abroad in case of power fluctuations. Your phone could be damaged by a power surge if it isn't properly protected.
Protection against electrical surges can be provided by adding a surge protector to your power supply.
In places prone to electrical storms, lightning can produce devastating power surges. The risk of damage to your electrical devices is heightened when there are problems with the electricity infrastructure.
Power surges are uncommon, but they can damage expensive electronics. You may rest easier knowing you have a surge protector.
Apple's warranties are valid worldwide, so any damage you might incur when travelling abroad is covered as long as you use your device in the way Apple intended. However, accidental electrical surges whilst charging are not covered.
When possible, it's advisable to use a surge protector when charging an iPhone to safeguard it from damaging voltage fluctuations. The best surge protectors to buy (on Amazon) are those that have a lot of outlets and a long wire. You can check TheActiveNews.Com for the latest information.