Within the Apple ecosystem, exchanging files is simplified because of Apple's commitment to making its products extremely interoperable with one another. There are a few different ways to move content from an iPhone to a Mac.
If your iPhone and your computer are within 30 feet of each other, you can utilize AirDrop to send and receive files easily. In addition to the aforementioned methods, you can also use a USB cable, iTunes, or a cloud service, such as iCloud Drive, Google Drive, or DropBox, to move your data.
So, as you can see, there is a plethora of choices when it comes to moving data from an iPhone to a Mac. Let's examine your options so you may pick the one that serves you best.
How to Use AirDrop to Transfer Files
When it comes to transferring data quickly and easily between Apple devices, AirDrop is a must-have. It's quite similar to Bluetooth sharing, only it doesn't drain your phone's battery and it's faster at uploading videos, files, and other information across Apple devices.
You can use AirDrop to send data between two devices that are up to 30 feet apart. On a Mac, you can activate AirDrop by opening the Finder and clicking the "AirDrop" option. Please turn on your wireless connection or Bluetooth. Select which contacts you'd like to allow to send you files, or make that option available to the general public.
Simply activate AirDrop by accessing the iPhone's settings and selecting "General" from the menu. Choose "AirDrop" and then either "All Contacts" or "Everyone" to send files to and receive them from other users. Once AirDrop is enabled on both devices, sharing data between them is a breeze.
To use AirDrop to send data between your iPhone and Mac, just do the following:
To send a file to someone else, simply click the "share" button after selecting it.
To start using AirDrop, select your Mac from the menu.
Please be patient while the file transfers to your Mac. Even if the file is large, it should just take a few seconds to process. Over 1GB of files can be transferred in under a minute with a strong WiFi connection.
How to Transfer Files With USB or Bluetooth
Among the simplest ways to transfer files between your iPhone and Mac is with a USB connection or over Bluetooth. Let's explore both methods:
Using a USB Cable
Use the proper cable, such as a Lightning to USB cable (available on Amazon) or a Lightning to USB-C cable, to transfer data from your Mac to your devices through USB (also on Amazon). Hook up the iPhone to the Mac. At this point, you can open Finder and choose your iPhone to continue.
To move data from a Mac to an iPhone, go to 'Files' and then drag the desired file from the Finder window to the desired app. It's easy to move content from your iPhone to your Mac; just open the app housing the file, click and hold to select it, and then drag it to the destination on your Mac.
Using Bluetooth
Although Bluetooth has been around for a while, it is still useful for its original purpose: file transfer without the need for a network or cable. If you want to use Bluetooth to link your iPhone to your Mac, you'll need to enable Bluetooth on both devices. To send a pairing request, open the Bluetooth menu by clicking the symbol, then choose your Mac from the list.
Upon accepting the pairing request, file transfers between the two devices are enabled. Simply press and hold the desired file for two to three seconds to send it wirelessly through Bluetooth from your iPhone to your Mac.
Choose "Bluetooth" and then "Mac" under the "Share with" options. Once the file transfer is accepted on your Mac, please wait for it to finish before proceeding. You may think of this as "AirDrop" with a different name.
How to Use iCloud to Transfer Files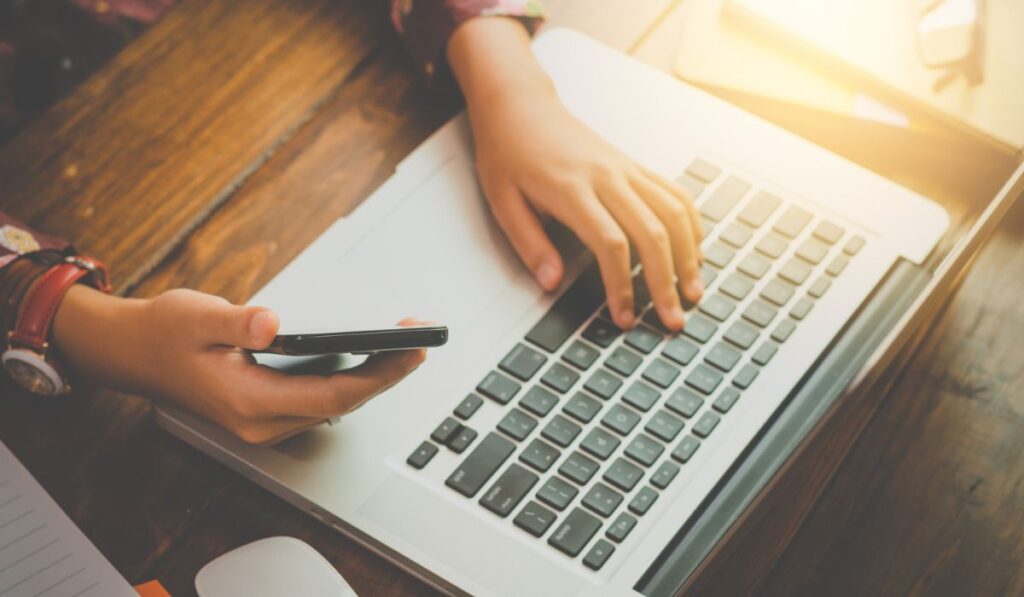 As long as you use the same Apple ID on your iPhone and Mac, iCloud makes it simple to share content between the two devices. You can access the files you store in iCloud Drive from any internet-connected device.
Open the iPhone's settings and tap your name to access iCloud file sharing. To activate iCloud Drive, go to Settings > iCloud and then select the Drive option. Files and data on your phone will be synchronized with iCloud automatically.
Select "System Preferences" from the Apple menu to gain access to your iCloud files on your Mac. After signing in with your Apple ID, go to the menu and choose "iCloud." Enter your Apple ID password and click "iCloud Drive."
Files synchronized from your iPhone will be shown alongside any others in your Drive. Using this method, you can transfer files from your Mac to your iPhone even if you don't have either device with you.
Install the iCloud app on your Windows PC, then sign in with your Apple ID and password to have access to your files stored in iCloud Drive. When you open the iCloud app, you'll be able to see your iPhone's files if they've been synchronized with iCloud Drive.
Using Other Cloud Services to Transfer Files
Other cloud-based services exist besides iCloud for moving huge files over the internet from an iPhone to a Mac, which is useful if you don't want to utilize iCloud or are transferring to someone else's Mac.
Consider using a cloud service, such as Google Drive, Microsoft OneDrive, or Dropbox. Smaller files can be transferred via email or messaging apps like WhatsApp.
You'll need the Google Drive app on your iPhone to send files from your iPhone to your Mac. To send a file to Google Drive, open it up, then choose "Send to Google Drive" under "File Sharing Options." When using a web browser on your Mac, you can enter your Google Drive account and download the file from there.
File transfers utilizing alternative cloud providers are functionally equivalent. Files bigger than 10 MB may be too large to send successfully by email.
Using iTunes for File Transfer
When transferring files via Finder or a USB cable, iTunes isn't necessary. Still, it's a useful way to share data among Apple products.
Connect your iPhone to your Mac with a cable or Bluetooth to transfer files using iTunes.
Launch iTunes, go to the menu bar, and then choose Device to choose your iPhone. Choose the destination on your Mac to store the copied file, then click "Save To" after clicking the app and file you wish to copy. Go to TheActiveNews.Com for the latest information.