There is no better way to connect your smartphone, tablet, or laptop than with a USB-C connection. The USB-C cable will eventually be able to connect to every device, and it may even be able to supplant the Lightning connector used on Apple's iPads and iPhones. But can video files be transferred using USB-C?
If your device's USB-C port doesn't meet the requirements for transferring videos, then your USB-C cable won't do you any good. Transferring video files through USB-C 3.0 requires a device that supports either Intel's Thunderbolt 3.0 or a DisplayPort/HDMI Alternate port.
True, the USB-C cable is a top-notch connection standard, but it has its limitations. Let's take a look at the features of a USB-C cable and see if they support the transfer of video. We'll also discuss the top cables on the market right now to help you zero in on the perfect one.
What Is the Purpose of a USB-C Cable?
The USB Type-C, or USB-C, the cable is quickly replacing all other USB cables for charging and data transfer between an ever-expanding variety of electronic gadgets.
The cable may be inserted from either end because of the symmetrical construction, so there's no need to fiddle around with trying to figure out which way is up before making a connection.
Several popular products, such as the Nintendo Switch (on Amazon) and the MacBook Pro, can be charged rapidly with their increased power and user-friendliness compared to older USB kinds (also on Amazon).
Several other cutting-edge technologies, such as USB Power Delivery and Thunderbolt, are intrinsically related to the cable and have the potential to revolutionize the way we interact with our electronic gadgets and carry out our daily tasks at home, in the office, and on the go.
Can a USB-C Cable Transfer Video Files?
The solution to this query is device-specific, as a USB-C cable is merely a connection. Make sure to verify your device's specs to see if it supports transferring video files via USB-C, as not all do.
Keep in mind that while all Type-C connectors support USB data transfers, this is not necessarily true for any other types of data. Although USB 3.1 is more commonly used, some Type-C connections may only support USB 2.0.
Fortunately, most modern desktops and laptops are built with USB-C connectors that enable Intel's Thunderbolt 3 technology, allowing for theoretical data transfer rates of up to 40Gbps.
In other words, you can use a USB-C cable to transfer video data between devices that have a USB-C port and support either Thunderbolt 3.0 or DisplayPort/HDMI Alternate mode.
What Are the Benefits of a USB-C Cable?
Although the USB-C cable's specifications were published in 2014, the technology has only just begun to gain traction and mature. Compared to previous generations of USB cables, this one offers various advantages.

USB-C is an improved version of the USB connector that is smaller and can be plugged in any way.
There is no need to provide a wide assortment of USB cables because the USB-C connector is used by the vast majority of modern gadgets.
You can charge a laptop with some USB-C cables that feature a USB Power Supply (PD), which boosts power delivery to 100 watts.
USB-C cables can be used to transfer and receive electricity in both directions.
As many as 10,000 insertion/removal cycles are safe for Type-C cables.
What Are the Limitations of USB-C Cables?
Note that not all USB-C cables are created equal. A common source of confusion is that different cables are constructed according to different versions of the Universal Serial Bus (USB) standard. Read the specifications carefully, as most Type-C cables only support version 2.0, while a select few support versions 3.1 and 3.0.
Additionally, not all USB-C cables or devices are USB PD compatible. Be sure that the cable you choose is compatible with both USB PD and USB-C before making a purchase.
What Are the Best USB-C Video Cables?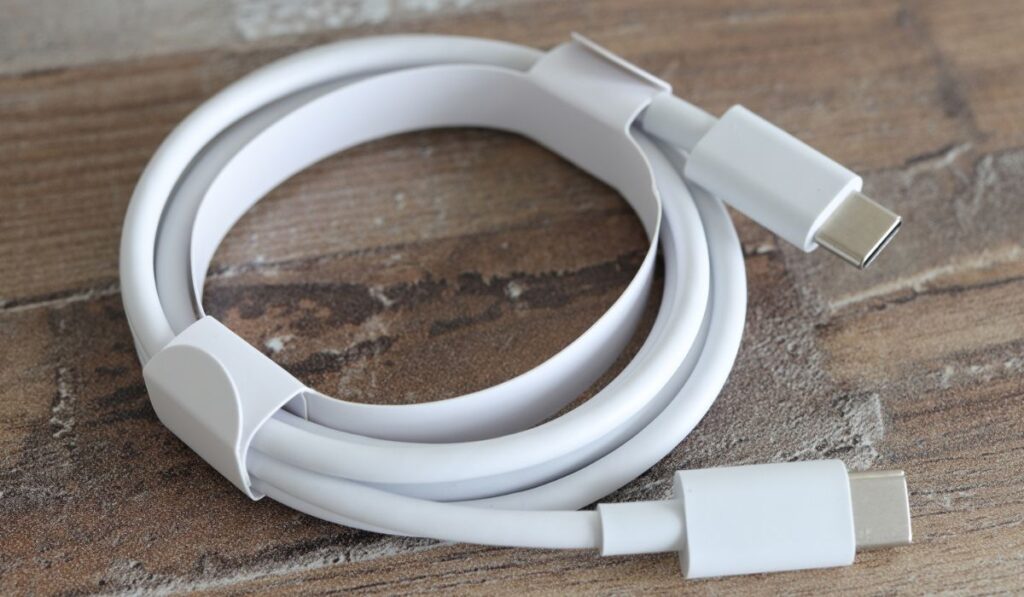 Not all USB-C cables can be plugged into a monitor to display images, but here are some of the best ones that can:
Cable Matters USB-C Video Cable
The USB-C cable from Cable Matters (available on Amazon) strikes a great mix between quality, length, and cost. Even though it can only carry data at a rate of 5GB/s, it can handle 4K at 60Hz without any hiccups so long as you aren't connecting more than one 4K display.
The cord is six feet in length, giving you plenty of room to run it from your gadget to your screen.
Anker USB-C Video Cable
The Anker USB-C video cable (available on Amazon) continues the company's tradition of producing high-quality cables. With a speed of 40GB/s, this connection is suitable for use with numerous 4K displays and even 8K displays. Nonetheless, at only 2.3 feet in length, it's a little on the short side.
Rambow USB-C Video Cable
The Rambow USB-C Video Cable (available on Amazon) is an excellent option if you're not looking to spend a lot of money on a cable.
The connection supports data transmission rates of up to 20GB/s and is capable of displaying 4K video on several monitors without any issues. It comes in two different lengths (6.6 and 3.3 feet) and is braided for increased strength. You can check TheActiveNews.Com for the latest information.