The development of smartphones has changed the way people live, work, and communicate. There's no denying the ease of our round-the-clock accessibility, yet there are times when we just need to focus without interruption. You can still get important notifications on iOS, even when you've turned on Do Not Disturb (DND), thanks to features like Focus Sharing.
Share Focus Status notifies everyone around you that you have activated the Focus mode on your iPhone. When this setting is activated, anyone attempting to text you will be alerted immediately that your phone's alerts are muted. This feature can be enabled or disabled via the "Focus Mode" settings on your iPhone.
If you need to get some work done or just want some peace without interruptions, switching your iOS iPhone to Focus mode can help. The various Focus modes available on iPhones are a welcome addition. You can also tailor a mode to your requirements. The article below will teach you how to use the Share Focus Status feature on your iPhone.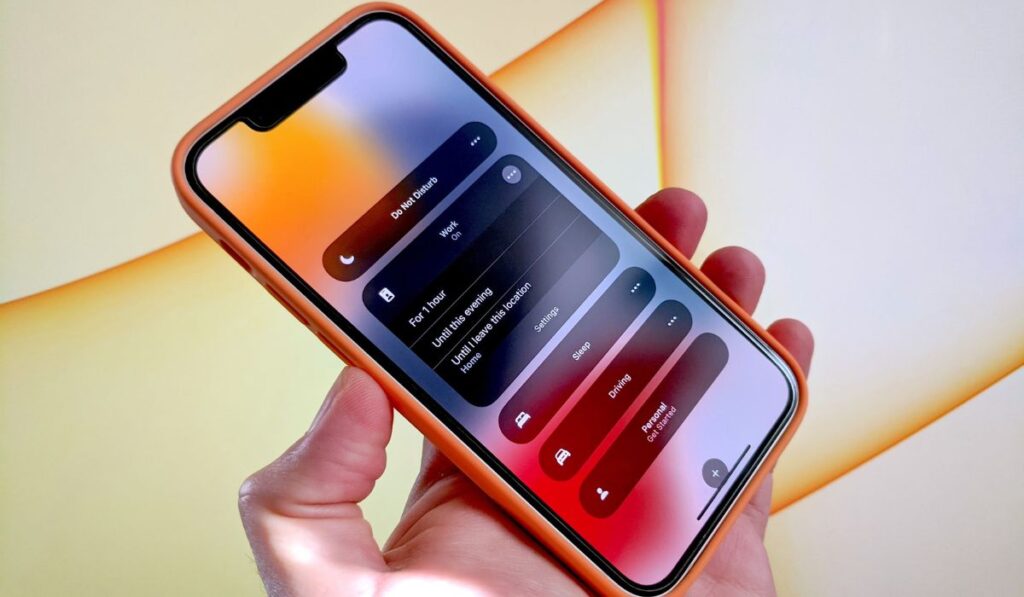 With the release of iOS 15 in 2021, Apple introduced a new Focus Mode feature called Share Focus Status. With this feature, you may update your iPhone contacts on your current Focus state. Focus has a variety of default settings, including:
Work Sleep Fitness Driving Do Not Disturb
How it Works
These settings muffle any incoming messages or alerts that aren't urgent. However, when configuring Focus mode, you can choose to get notifications from a subset of essential contacts and apps.
Communication best practices are encouraged by the Share Focus Status feature. Misunderstandings could arise, for instance, if notifications were muted without prior communication.
Discussing your Focus level can help avoid any awkward encounters. This function notifies your contacts that you are currently occupied and not ignoring them.
When other iPhone users attempt to contact you or send you a message, a small blurb will appear on some apps to let them know that you are now focused on something else. You are alerting those attempting to contact you that you have your notifications muted and won't be able to answer immediately.
That way, they can choose to contact you when it's convenient for them, or they can skip the Focus mode and alert you if something essential comes up.
Focus mode and its supplementary features require an up-to-date iOS device. There is a switch for sharing the Focus state in each mode. Follow these procedures to activate the Focus Sharing Status:
Launch the iPhone's preferences menu.
The next step is to select the Focus icon, which looks like a half moon.
Pick a concentration mode.
To enable the feature, go to Focus Status > Share Focus Status.
The option causes a banner to be shown to contacts, explaining that you've switched to Focus mode.
When a contact wishes to get in touch via a supported app like iMessage, the Focus status will be displayed. All app alerts must be turned off before you can use this feature on an iPhone.
If you have notifications turned on for the Focus Status app, your contacts will not be able to see your status. Consider turning on Share Focus Status for all of your Focus modes if you find yourself switching between them regularly.
Allowing Urgent Notifications
Although Focus mode's primary function is to help users concentrate and avoid distractions, it's still a good idea to grant a few select contacts access in case of an emergency.
The "Time Sensitive Notifications" option allows you to create time-sensitive alerts. To send urgent alerts:
Launch the iPhone's preferences menu.
Select Focus by clicking the moon icon.
Select Notifications > Permitted.
Select the Apps menu and activate the Time Sensitive switch.
To allow specific people to reach you while Focus mode is active, you must activate the setting in the iPhone's Contacts app. To select those who can switch out of Focus mode:
Allow Communication.
Pick someone in your address book.
Open the editor by clicking.
Choose a sound for your texts or your phone's ringer.
Switch to the "Emergency" setting.
To complete the installation, tap Done.
By activating these options, you can rest assured that even with Focus mode on, you will never miss an important call or notification.
How Do You Stop Sharing Focus Status on iPhone?
Some settings' default setting is to enable Share Focus Status. To disable this feature:
You can check out the available focus modes on your iPhone by going to the Settings menu and selecting the Focus option.
To access the settings menu, launch any available mode.
Then, go to the Status menu and turn off the Share Focus Status option.
If you don't want to be interrupted, let folks know by sharing your "Focus" status. You can use it with complete peace of mind knowing that your private mode will not be revealed by any of its notifications.
Stay Focused
To avoid becoming distracted, go to Focus mode. This function can help you streamline your notifications, remove unnecessary apps from your iPhone's Home screen, and free up space on your lock screen.
You can maintain your attention and productivity across many devices by syncing your settings between your iOS and macOS devices. You can check TheActiveNews.Com for the latest information.