GoPro cameras are created to be as user-friendly as possible, whether you're a novice or a professional. The interface is simple and intuitive, and with the built-in WiFi and Bluetooth, you can quickly and easily transfer your photos and videos to your computer, smartphone, or tablet to share with friends and family, or upload to social media. What role, if any, does the GoPro Quik app play in this?
Your GoPro footage is just a tap away with the GoPro Quik app. The software allows you to transfer media captured by your GoPro camera to your mobile device, where it may be edited and shared. The program additionally allows for remote camera management. The Swift app may be downloaded on both Apple and Google mobile platforms.
You can do more with your GoPro content than ever before with the help of the Quik app. To make the most of your GoPro, we'll examine the setup and use of the GoPro Quik app.
What Does The GoPro Quik App Do?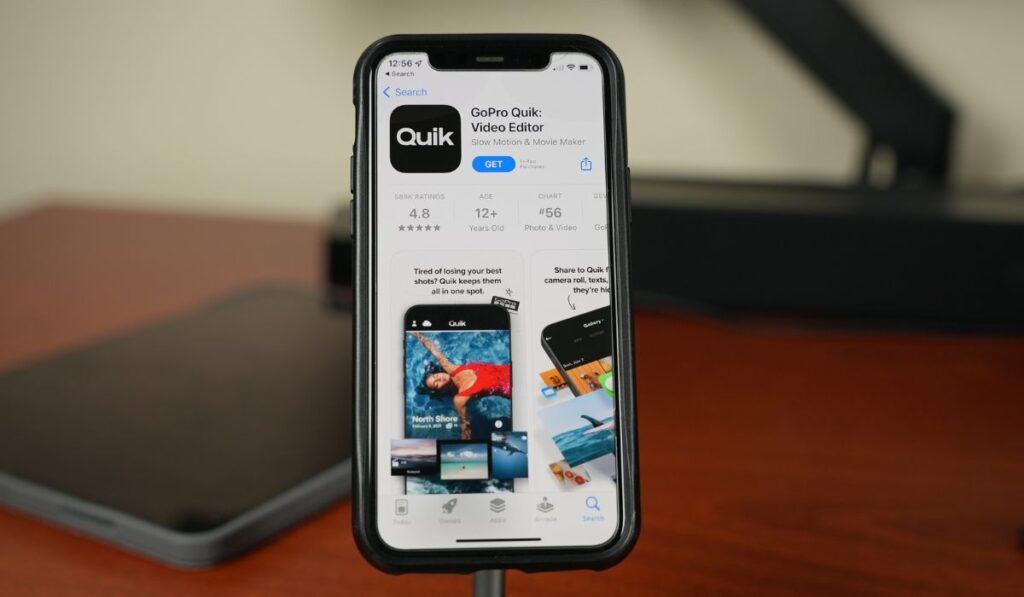 To edit videos captured with a GoPro, download the GoPro Quik app. Automatic video editing, cutting, and soundtrack integration are only some of its advantages.
Easy video sharing with friends and family is made possible through the app's integration with GoPro's cloud-based video storage service. After downloading and installing the GoPro Quik software on your mobile device, you may transfer footage from your GoPro camera through WiFi or USB.
The app will then evaluate the material and produce a bespoke edit. You can do things like cut footage shorter or add music to the edit. If you're satisfied with the end product, you may send the video straight from the app.
When utilizing the GoPro Quik app, you will reap the following benefits:
The algorithms within the program will automatically cut together your footage into a polished and professional-looking film.
Clip trimming and music addition allow you to further tailor your video to your preferences by using either your own media library or the app's in-house soundtrack.
The GoPro Quik app makes it simple to upload videos to GoPro's cloud service, allowing you to easily share your footage with friends and family.
The GoPro Quik software simplifies mobile video editing and sharing, and it's accessible for both iOS and Android devices.
Is The GoPro Quik App Free?
To give Quik a try, all you have to do is download it for free. Users who want access to all the app has to offer can pay $1.99 per month or $9.98 per year to become a subscriber. Your imported photos and videos will be safely stored in the cloud indefinitely with this subscription. Additionally, the Quik app includes:
You can import as many pictures and videos as you like. Load up your PC and your preferred social media sites with as many photos as you can grab from your camera.
Prepare Your Footage by Cutting and Shaping It Easily refine your video recordings with a few taps. Cut out the boring parts and focus on the parts you like best.
Upload Your Tracks or Pick One of Quik's: You can listen to some pre-loaded tunes or upload your songs.
Make Movies That Look Like The Real Thing: With the help of sophisticated algorithms, the Quik software can transform your raw footage into polished, professional-looking videos in seconds.
Customize the look of your movie with filters created specifically for use with the GoPro camera.
Upgraded Video Playback Accelerator: Your films can be sped up or slowed down, and you can insert slow-motion and freeze-frame sequences at certain moments.
Select from a growing library of professionally designed video editing themes to quickly and easily give your clips a unique look and feel.
Meanwhile, for $49.99 a year, GoPro Subscribers get everything included in a Quik Subscriber plus the following perks:
A discount of $100 per year on up to three new GoPro cameras.
There is a sale on accessories at GoPro.com, with prices dropping by as much as half.
They can upload as many of their original-quality GoPro films and photographs to the cloud as they like.
Streaming in real-time from a GoPro camera to GoPro's high-quality streaming service.
If your camera breaks, no problem, we'll replace it for free.
How To Install The Quik App
The GoPro Quik app may be downloaded on Apple and Google Play smartphones. GoPro Quik can be downloaded through the App Store or the Google Play Store.
Downloading and testing out the app doesn't cost a dime. If users are interested in gaining access to all of the app's features, they may do so for only $1.99 per month, or $9.98 per year, with a subscription. Those who pay GoPro's annual subscription fee of $49.99 will gain access to all of the premium features we've discussed above.
Do You Have To Use The GoPro Quik App? 
The Quik app makes it easy to modify and distribute your GoPro footage. It is not necessary to use the app to modify or share your movies.
Even if you don't have iMovie, you can still use Windows Movie Maker or another program to edit your videos. Use one of these apps if you want a greater say in the editing process.
If you're searching for a simple solution to editing and sharing your GoPro footage, though, the Quik app is a fantastic option.
How to Connect The Quick App to The GoPro
To edit and share films shot with a GoPro camera, you must first download the GoPro Quik app to your mobile device and then link it to your camera. The app requires that both the GoPro and the mobile device be on the same WiFi network.
Launch the Quik app and then select the 'Connect & Control' button to link your GoPro to Quik. You'll be prompted to choose your GoPro from a selection of connected cameras.
After picking out your GoPro, you'll be required to put in your WiFi password. When you sync your GoPro with the Quik app, you'll be ready to start editing and sharing your footage.
Launch the program and select "Create New Project" to get started. You may then import the video from your device and begin editing it.
After the video is imported, you may begin editing it with the app's built-in features. When you're done creating your video, just hit the "Share" button to send it to your friends and family. Check out TheActiveNews.Com for the latest information.