Sim cards are one of those things that you don't give much thought to until they cease operating. You can't use your iPhone for much of anything if you don't have a SIM card. There will be no way to use your phone's wireless features, including making or receiving calls. But why does your iPhone keep displaying "No SIM"?
If the SIM card is not properly inserted into your iPhone, or if it is damaged in any way, you will likely get the "No SIM" message. Perhaps the network was down or the settings were off. In addition, faulty iOS updates can trigger the issue. To resolve this, try resetting your iPhone's network settings, performing a complete factory reset, and installing the most recent version of iOS.
If the carrier name and signal bars or dots at the top of the screen are absent, this may be an indication that there is a problem with the SIM card, in addition to the "No SIM" error message. Let's dive into the specifics so you can determine the root of the problem and its solution.
What Is a SIM Card?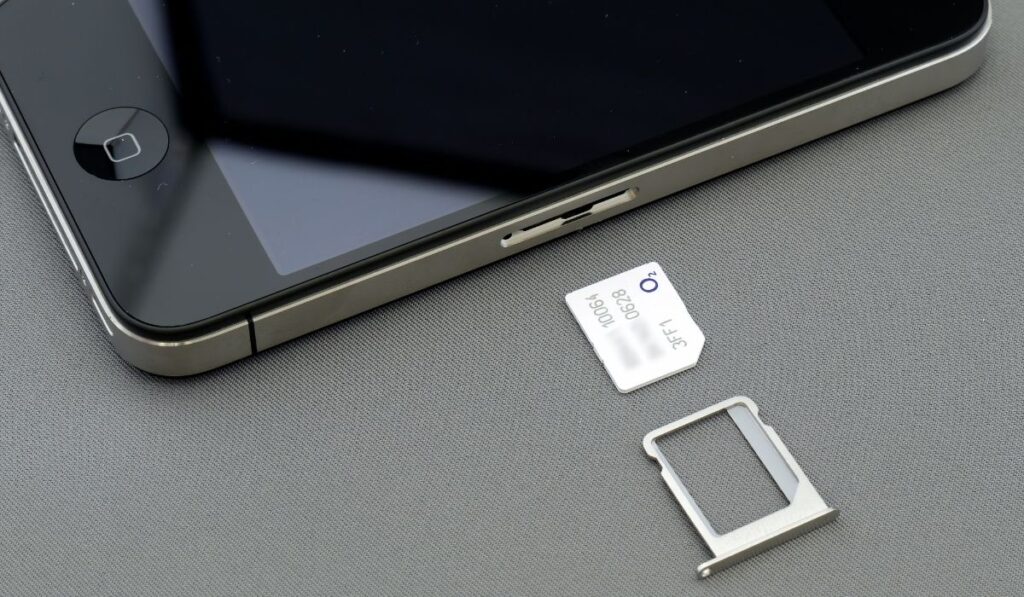 The Subscriber Identity Module (SIM) is a tiny smart card located inside your phone that serves as your unique identifier (via the international mobile subscriber identity number, or IMSI), keeps your personal information securely, and disables the phone if removed.
The SIM card in your phone isn't something you need to worry about unless you get the "No SIM" error, but it helps to know what it is and how it works just in case. And if you want to impress your pals who are into such things, "SIM" stands for "Subscriber Identification Module" in case you were wondering.
SIM cards safely store the bits of information that uniquely identify you as a subscriber to a mobile network. To use the text, voice, and data services that are included in your monthly mobile phone bill, you will need an authorization key, which is stored on a SIM card.
The SIM card is the part of your iPhone that holds your phone number and connects you to your cellular provider's network.
SIM cards once served as the user's address book in many older phones, but their purpose has evolved. These days, the SIM card isn't where you'll find your iPhone's contact list. Instead, it's either on iCloud, your email server, or the phone's internal storage.
And with the advent of 4G LTE and 5G, SIM cards have also progressed. Before the release of the iPhone 5, carriers like Verizon used a technique called CDMA to associate a customer's phone number with the cellular network automatically, bypassing the requirement for a SIM card. Mobile phone numbers are stored on subscriber identification microchips (SIM) cards, which are now standard across all networks.
Why Does "No SIM Card" Keep Popping Up on Your iPhone?
If your iPhone continues reporting there's no SIM card, it could be due to any of the following:
An improperly positioned SIM card or tray
Sim card malfunction due to physical damage
There was a disruption in the system's networks.
Antiquated programs
Bug-ridden new version of the program
Misconfigured network settings
A SIM card's chip is more vulnerable to scratches if you frequently insert and remove it from your phone. Keep in mind that your SIM card is equipped with a little electronic chip that will cease functioning if it is damaged.
Another reason for the "No SIM" issue could be a deformed SIM card that won't fit in the SIM tray. The cause of this error may not be obvious, except in the case of a missing or damaged SIM card. Sometimes it's because of a misconfigured network or an issue with the most recent iOS version.
How Do You Turn Off the "No SIM" Message on iPhone?
It's crucial to check the most immediate options for fixing the invalid SIM card problem before moving on to more involved solutions. Taking your iPhone through these troubleshooting methods might help you get rid of the "No SIM" message:
Restart Your iPhone
An iPhone may occasionally fail to recognize a legitimate SIM card due to a software issue. The "No SIM" error may be caused by a transitory problem, which can be remedied by doing a soft reset.
To access the Power Off slider on an iPhone 5, 6, 7, 8, or SE, press and hold the Side button. To turn off your iPhone, move the slider to the right. Just turn it back on after 30 seconds.
Hold the Volume Down and Side buttons together on an iPhone X, iPhone 11, or later until the Power Off slider appears. To shut down the phone, move the slider to the right. Just turn it off for 30 seconds and then back on.
Confirm You Have an Active Carrier Plan
Go to Settings > General > About to see if your carrier plan is still active. Verify that your subscription with the carrier is still active by looking up your account information.
Sometimes it's as simple as an interruption in service from your network provider. If you want to double-check, you can send them an email or start a live chat session on their website.
If you're having trouble getting your iPhone to connect to a server for updates, you can use any computer with iTunes installed to see if there are any new versions available. iTunes will check for wireless carrier configuration updates before upgrading your phone. If they are available, it will prompt you to install them.
Eject the SIM Card & Inspect It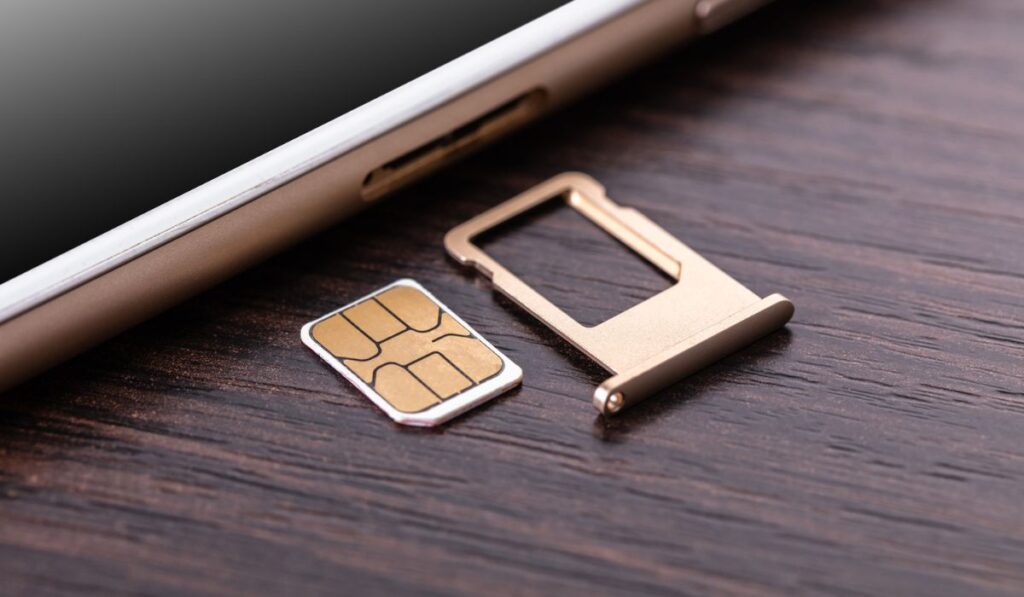 The iPhone must be turned off and the SIM tray ejector tool carefully inserted before removal (on Amazon). A paperclip with one of its edges reshaped is another option. A poorly installed SIM card will make the tray tough to remove.
But after you have the SIM card removed, check it thoroughly for scratches and other damage. A flashlight inspection of the SIM tray entrance for obstructions is also recommended.
If so, use a can of compressed air, such as a keyboard blower, to gently remove the debris (on Amazon). To continue, remove the SIM card from the phone, use a clean, lint-free cloth to wipe it down, and then reinstall it.
Try a Different SIM Card
If you're having issues with your iPhone, try using the SIM card of a friend or family member. A SIM card is likely to be at the root of the "No SIM" problem, therefore if this solution works for you, it's your SIM card.
This way, you may get a replacement SIM card from your service provider without having to get in touch with Apple.
However, additional issues, such as incorrect settings or software glitches, may need to be considered if the "No SIM" warning keeps coming up.
The software on your iPhone is analogous to the brain, so keep that in mind. And if the network is unstable or improperly configured, the hardware won't function either.
Turn Airplane Mode On and Off
One of the quickest ways to fix multiple network-related difficulties is to turn on and off Airplane Mode. To activate Airplane mode, swipe up from the bottom of the screen to open the Control Center. After 15 seconds, try turning it off to see if the problem goes away.
The Control Center may be accessed by swiping down from the top right corner of the screen on iPhone X and later models. You should rapidly tap the airplane icon to turn on Airplane Mode and then tap it again to turn it off.
Alternatively, you can activate Airplane Mode by going to Settings and then tapping that option. Try turning it off quickly to see if that helps.
Reset Your Network Settings
If you're having trouble connecting to cellular networks or WiFi, try resetting your network settings to their factory defaults. However, you should know that this process will wipe out any previously saved WiFi passwords and other network preferences.
Here's how to factory-reset your wireless router:
Select "General" from the Settings menu.
Select "Transfer or Reset iPhone," and then "Reset."
Select "Reset Network Settings," and then input your password to proceed.
Update Your Wireless Carrier Settings
To improve mobile data access on their network, your carrier may issue periodic updates. Not installing these updates may render your SIM card useless.
Go to your iPhone's Settings > General > About after you've connected to WiFi.
If an update option appears, select it.
Experts advise using iTunes to check for wireless provider settings and to install updates if any are available.
Please connect your iPhone to the computer and launch iTunes. Whenever an update is available, the app will notify you and prompt you to download and install it.
Restore Your iPhone's Settings to Default
If you have tried the previous solutions and are still experiencing the "No SIM" issue on your iPhone, you may want to try doing a hard reset. As part of the setup procedure, you will be asked to restore your iPhone to its factory settings and then reactivate it with your carrier network. You will eventually use iTunes or iCloud to restore your backed-up data.
You should back up your device to either iCloud or iTunes before performing a factory reset because doing so will erase all of your settings and personal data. Before you can use your iPhone again after restoring a backup, you must first activate it.
If the "No SIM" problem persists after a factory reset, you should have access to stable WiFi as a backup plan. The steps to reset your iPhone to factory settings are as follows:
Please open the Settings program.
Use the "General" option.
Move down until you see "Transfer or Reset iPhone," then click on it.
Select "Erase All Content and Settings," then "Continue."
Update to the Latest iOS Version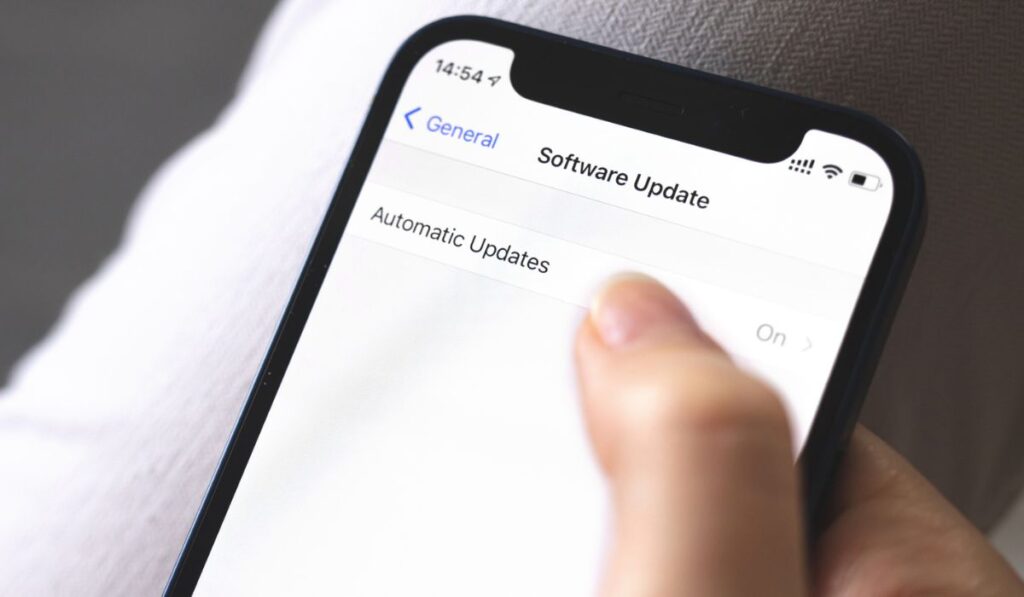 New iOS updates are typically released by Apple to correct bugs and other software flaws that may create problems, such as network troubles.
To get the most recent iOS version on your iPhone, do the following:
Please open the Settings program.
Select "Software Update" under "General."
You can force an update by selecting "Download and Install" if it doesn't happen automatically.
The "No SIM" problem is usually caused by an outdated version of iOS, so if you're getting it, try downloading the latest version of iOS from iTunes. Just use iTunes to get the latest version:
Using the Lightning cord, sync your iPhone with your computer running iTunes.
Launch iTunes on your computer and select your device from the menu that appears. This button sits in the upper left corner of your iTunes window.
To check for updates, choose "Update" and then "Check for Updates."
To get the most recent version of iOS, select "Update" and then follow the on-screen instructions.
Contact Customer Support if Everything Else Fails
If you follow the instructions above, you should be able to solve the SIM card issue you've been having. If you've exhausted all other options, contact your mobile provider's support staff or Apple's technical assistance team.
You may also take it to an Apple Store, where the Genius Bar has earned a stellar reputation for its speedy diagnosis. Even luckier would be receiving a whole new iPhone if your current iPhone is still covered by AppleCare. You can visit TheActiveNews.Com for further updates.