In response to Apple's first smartwatch, the Apple Watch Ultra, Garmin tweeted, "We evaluate battery life in months. minutes, not hours. The picture provided showed Enduro 2 in its natural environment. For the uninitiated, Garmin's Enduro 2 is the longest-lasting GPS watch available, with a battery life of months.
Fans of both brands will find it entertaining to compare the two watches' specs, functionality, and aesthetics. Both products are aimed at endurance athletes and anyone who likes spending time in the great outdoors.
Here, we'll contrast the Garmin Enduro 2 with the Apple Watch Ultra. Unfortunately, we haven't spent nearly enough time with the Ultra to be able to provide specifics at this time. Even so, it's more than enough to show the key distinctions between the two timepieces.
Pricing:
One of the most costly Garmin watches is the Enduro 2. Enduro 2 is similarly priced to the market-leading Fenix 7X Solar, coming in at roughly $1100. The Ultra version of the Apple Watch costs roughly $800.
Apple's Ultra-Slim Watch Takes First Place
Garmin Enduro 2 Vs. Apple Watch Ultra: Design & Display
Both timepieces have a robust design that meets all expectations. They're both big and bulky and built to withstand military use. The screen is safeguarded by sapphire crystal glass, while the body is made of premium titanium. Although Enduro 2 is considerably larger than the Ultra, it weighs about the same. The plastic body and titanium frame are to blame for this.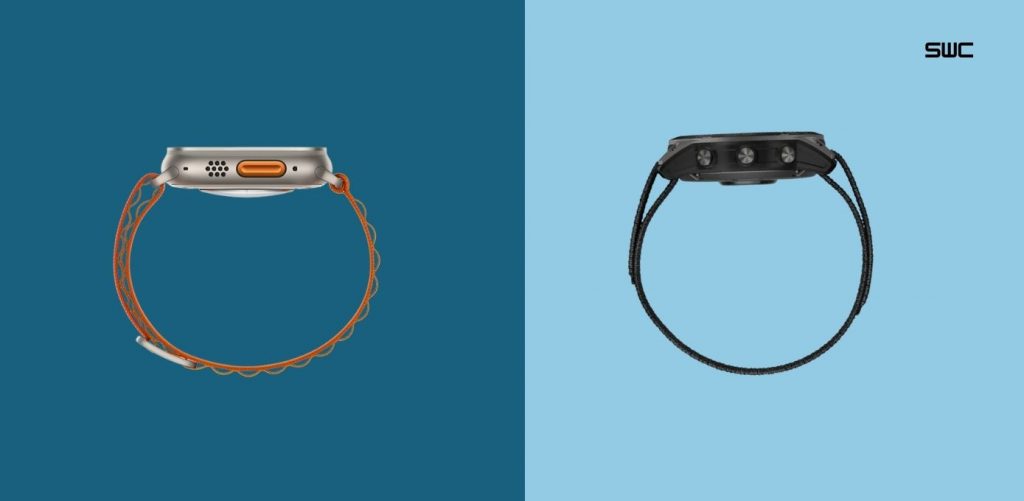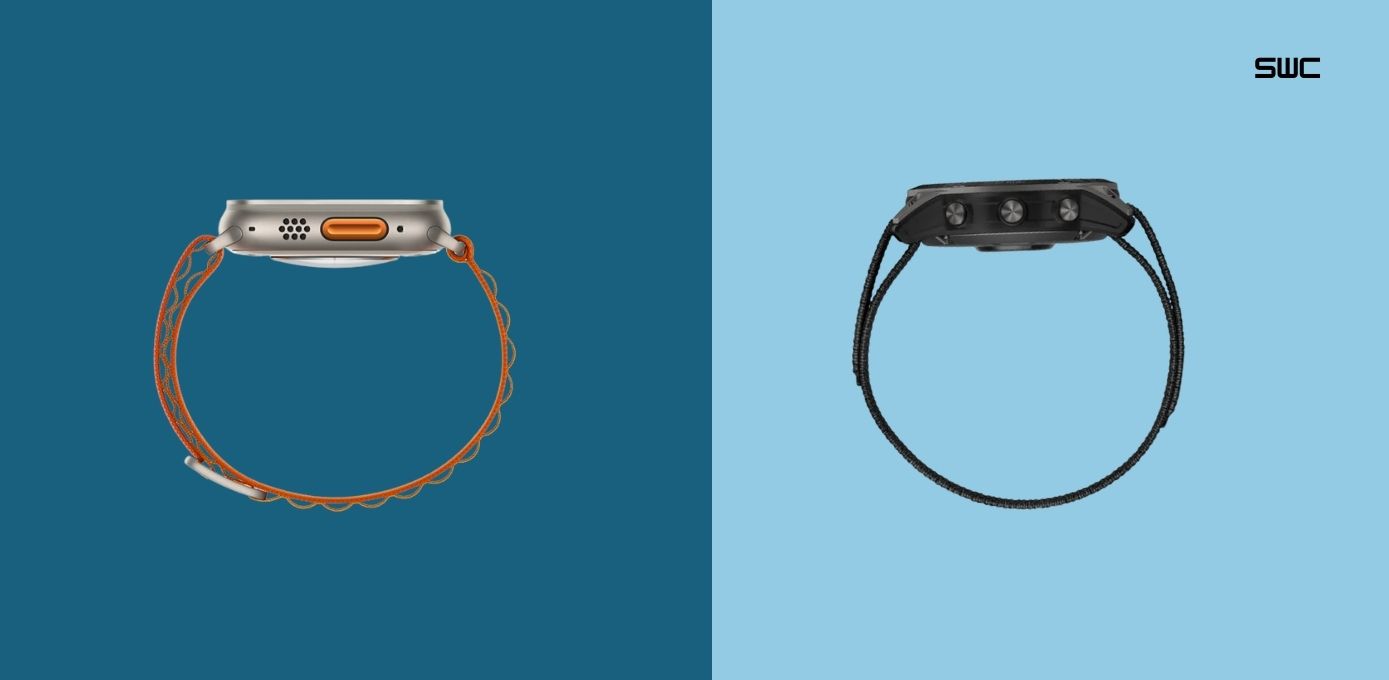 If screen size and resolution were the only criteria, Apple Watch Ultra would have easily won this category. However, the watch's practicality in outside settings must be considered.
The Garmin watch's MIP display is legible in any light. Apple responds by increasing the brightness of its AMOLED screen to 2000 nits. Checkmate. Both timepieces feature touchscreens and buttons for convenience.
The raised bezel on my Garmin watch is great for protecting the screen from rocks and other debris, which is especially useful when I'm out mountaineering or trail running. Apple has nothing to counter it with, and the longevity of the flat design is an open question. However, we can't help but give Apple a little edge.
Garmin Enduro 2 Vs. Apple Watch Ultra: Smart Features
When pitted against Apple's Watch, no other watch even comes close. Not even Garmin's Enduro 2. The best features of the watch are the capability to make NFC payments with Garmin Pay and to play music from prominent streaming services like Spotify and Amazon Music. Widgets and third-party programs are available for download in the ConnectIQ store, which is sadly low in both quantity and quality.
The Apple Watch Ultra provides solutions to these problems and many more. Apple Music, its music streaming service, and Spotify, another popular one, are both supported. You may also use Apple Pay to make purchases and access the largest app store.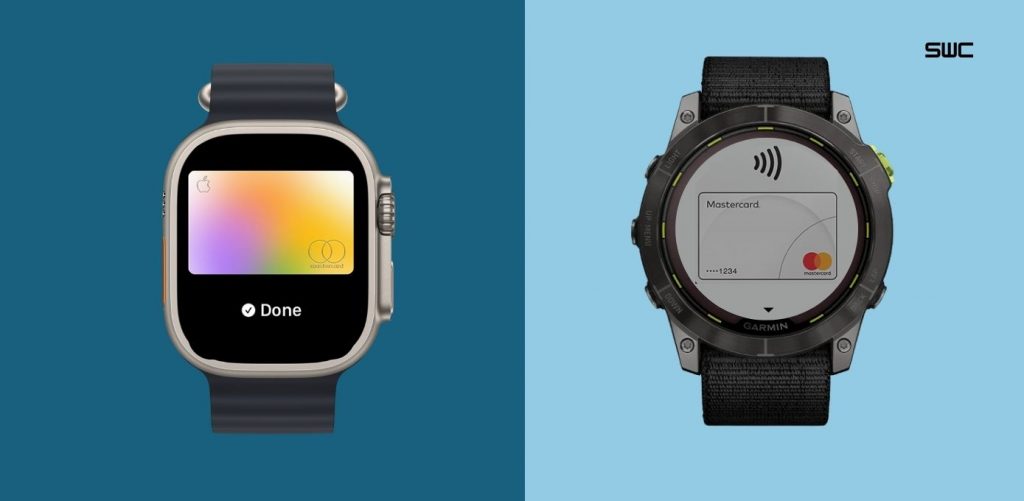 Siri, the watch's built-in speech assistant, can also manage your connected home's smart gadgets and help you with daily activities like alarm management and scheduling.
And if that weren't enough, the Apple Watch Ultra now has cellular connectivity so you can use it without your phone. On the other hand, the first time you set up the watch, you'll need an iPhone.
Garmin Enduro 2 Vs. Apple Watch Ultra: Health and Fitness Tracking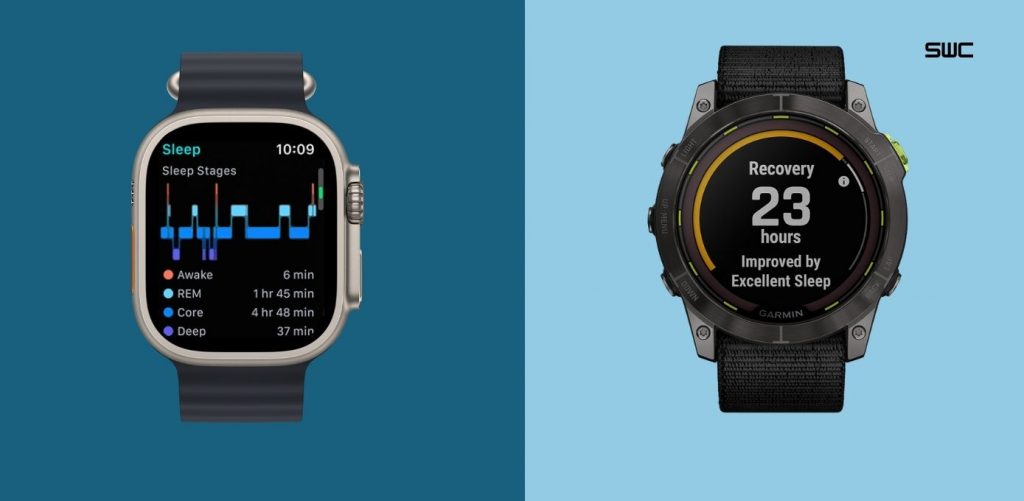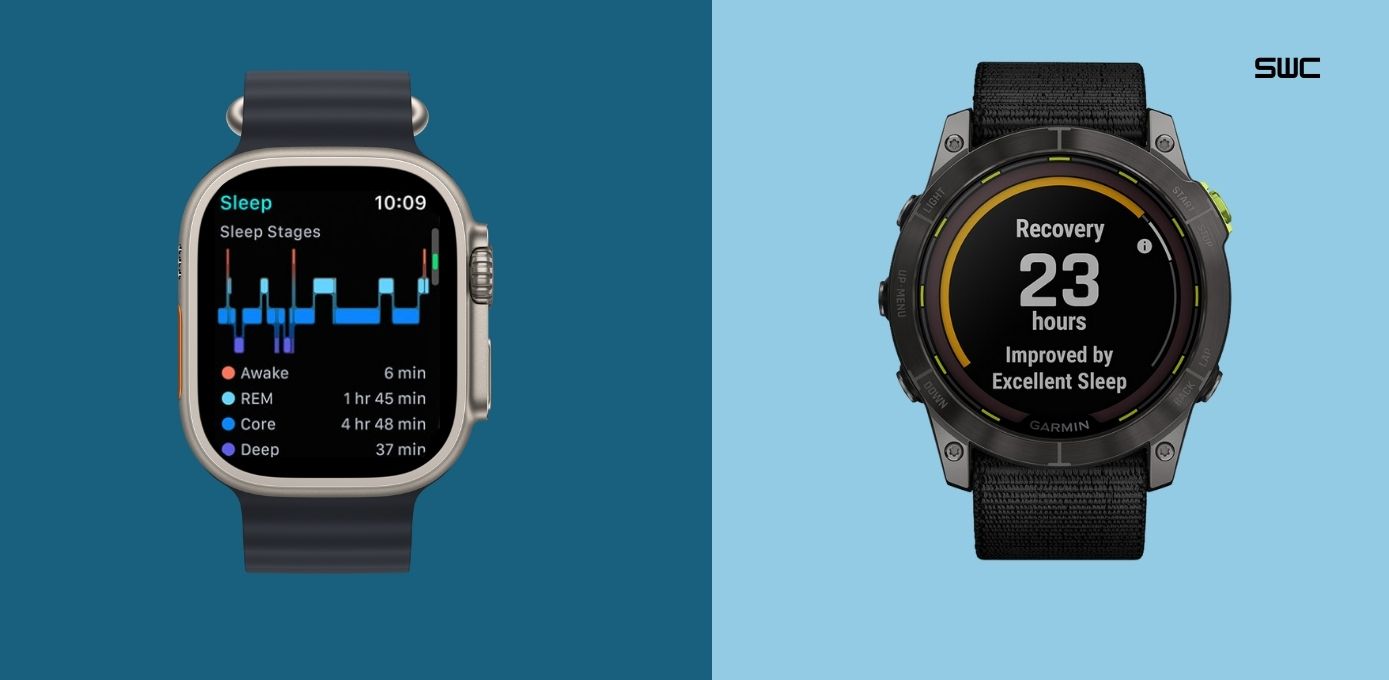 With the iPhone's Health app, you can get an organized summary of your health data and, more significantly, gain insights you can use to make positive changes to your lifestyle. The software also facilitates the transfer of data to your healthcare physician. Health Snapshot, Recovery time, and Training readiness are similar functions offered by Garmin. Garmin isn't that far behind, so that's something.
Garmin Enduro 2 Vs. Apple Watch Ultra: Sports Tracking
Apple's new Ultra watch is advertised as an essential tool for athletes of all stripes. It has the most accurate dual-band GPS navigation for runners, the best altimeter for hikers, and the highest water resistance for dives. But, as we all know, Apple isn't the first company to have these options.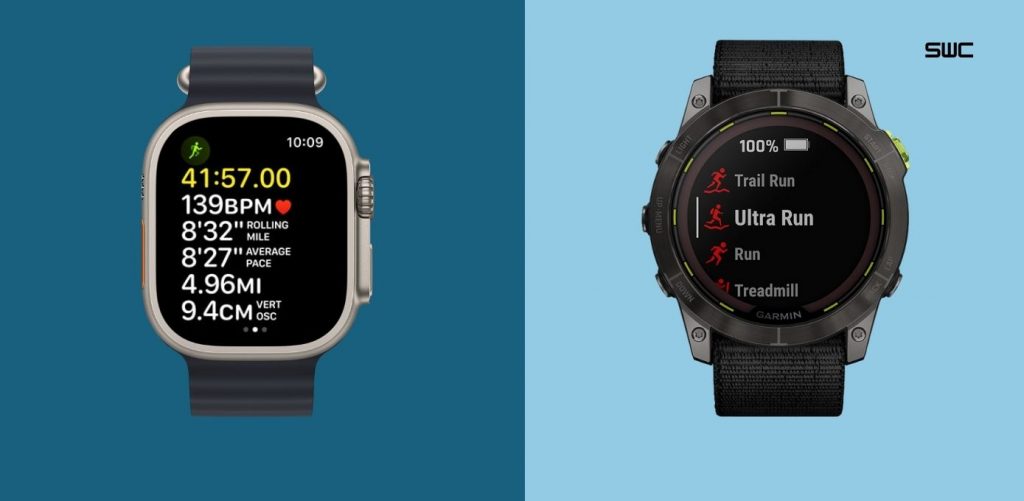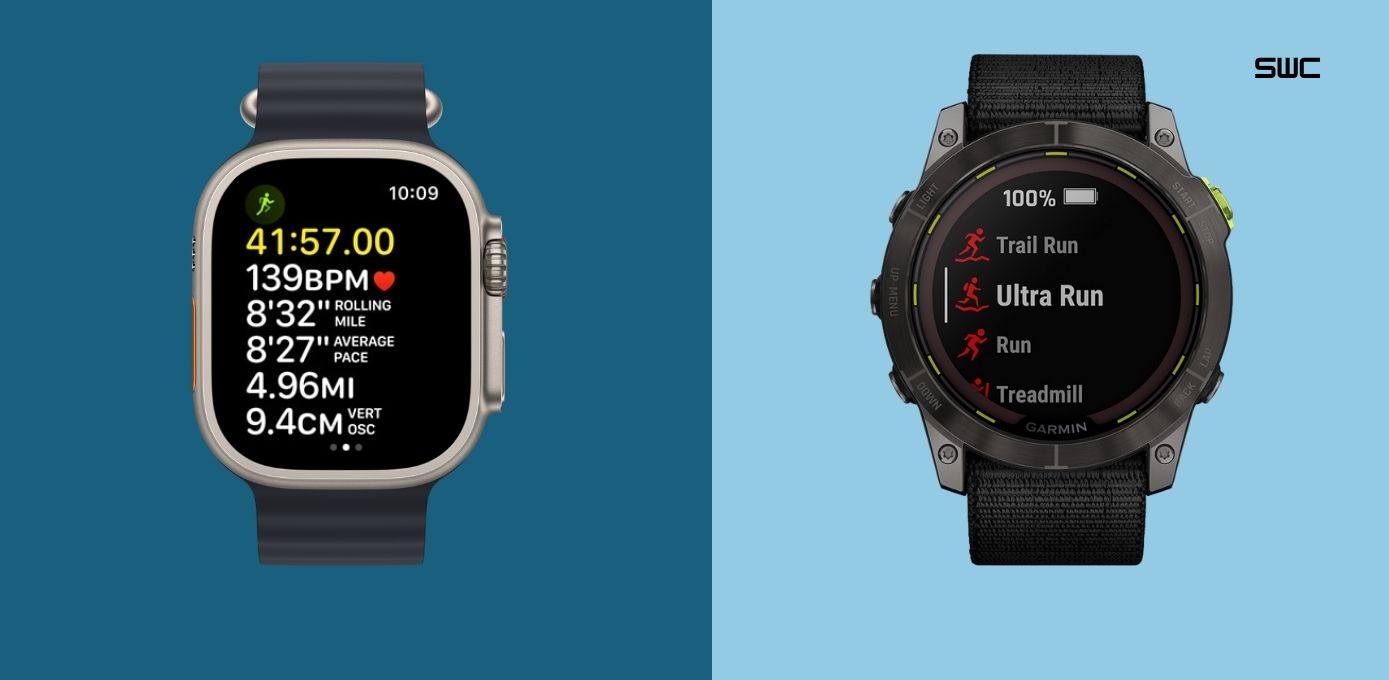 Enduro 2 demonstrates that Garmin was the first company to cater to athletes and explorers in the field. The watch is loaded with extra functions any athlete may use.
The Enduro 2 is similar to the Forerunner 955, Epix 2, and Fenix 7 in that it has built-in multi-band GPS navigation and sophisticated mapping capabilities for a variety of sports profiles. As a result, the location may be tracked precisely in even the most difficult conditions, such as impenetrable woodlands. It contains a built-in thermal sensor for tracking body temperature and a barometric altimeter for measuring altitude.
The Garmin Watch has the largest selection of sports modes available. What truly differentiates it, though, is the extensive metrics it provides for each of these sporting types. You may improve your workouts and make the watch work better for you by incorporating data from third-party apps into the various support modes.
In the swimming mode, for instance, not only can you keep tabs on your laps and distance, but also on your stroke type, SWOLF score (a statistic that combines your time and strokes per length), tempo, stroke count, and more. Metrics like cadence, ground contact time balance, Running Power, stride length, vertical oscillations, and more are all available in the running mode, which is just as comprehensive.
In this case, we're opting for Garmin because of the company's history of success and the superiority of its sports tracking capabilities.
Safety & Emergency Features
Crash detection is a brand new feature provided by Apple with the release of the Apple Watch Ultra, and it is the first of its kind. It can identify whether you've fallen or collided with an obstruction, and automatically dial 911 if necessary.
Crash detection pairs with fall detection, a feature that has existed in smartwatches since Series 4. The watch will contact emergency services if it detects that a user over the age of 65 has fallen and is unresponsive for more than a minute.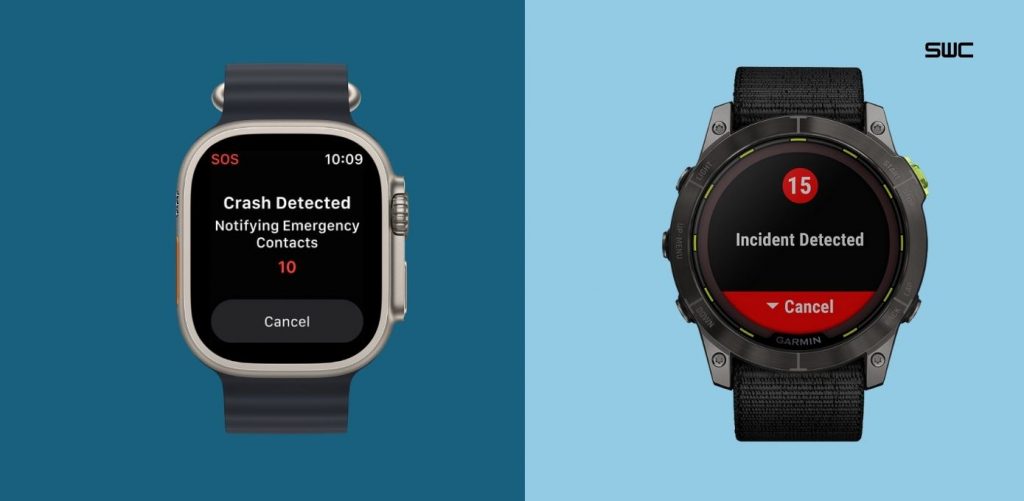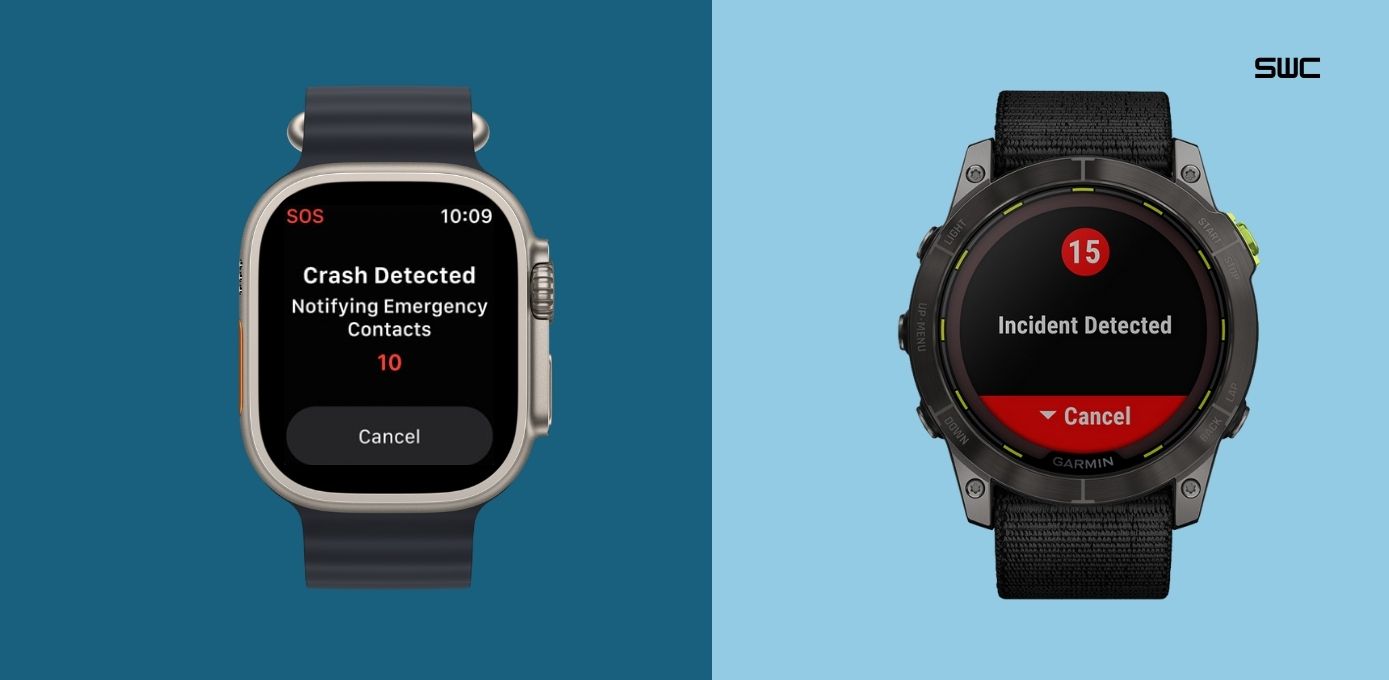 There is an 86-decibel siren built into the watch just for athletes, which is loud enough to get the attention of someone within a mile or so if they are in danger.
On the other hand, the Garmin Enduro 2 offers its own set of safety and emergency functions, however, practically all of them require a paired phone. It contains LiveTrack, which allows you to share your current position with trusted individuals, GroupTrack, which allows you to keep tabs on up to 50 friends or family members at once, and Incident Detection, which notifies your emergency contacts in the event of a fall.
Neither the accident detection sensor nor the siren is integrated into Enduro 2 like they are in Apple Watch Ultra. If you consider a flashlight on your watch a necessary safety feature while hiking at night, then you can use it with this watch.
Apple's Ultra-Slim Watch Takes First Place
Garmin Enduro 2 Vs. Apple Watch Ultra: Battery Performance
Despite their popularity, Apple Watches have never fared well in terms of battery life. Even the newest Apple Watch 8, the iWatch 8, still needs charging every other day, just like the first-generation watch did.
Finally, Apple has made a noticeable advancement with the Ultra. The watch's battery life is already impressive at up to 36 hours on a single charge, and the manufacturer has promised to implement a saving mode to increase it to as much as 60 hours.
The Garmin Enduro 2 is the top dog in this comparison. The official website claims that the watch's battery life is an impressive 34 days in smartwatch mode and 111 days in energy saver mode. Enduro 2 has you covered if you want to listen to music without an internet connection. A full charge can last up to 20 hours in all Satellite GPS settings while playing music in the background. Isn't it amazing? Hold on, let's not forget about the solar power option just yet. The battery life can be increased by months with the sapphire solar panel located on top.
The large sums of money are not for show only. Our experience with Enduro 2 corroborated these statements.
Honorable Mention: Garmin Enduro 2
Garmin Enduro 2 Vs. Apple Watch Ultra: Which Should You choose?
Both timepieces outperform the competitors in their respective specialties. There is no single best option because each person has different wants and needs.
The Garmin Enduro 2 is the best option if you want a watch that is tailored toward sports monitoring, has a sturdy build quality, and lasts for a longer period between charges.
If you want a smartwatch that can do it all, though, the Apple Watch Ultra has more to offer. It supports more advanced apps, has a more polished display, and is equipped with safety features that can be useful in an emergency. For more updates, you can visit TheActivenews.Com.